Having been a smoker now for.. ooooo... about 11 years, I decided that this Stoptober was the perfect time to do something about it.
That's not to say that I've never 'quit' before, I have! Throughout my pregnancy with Carson I stopped smoking and it was a breeze, let me tell you. Honestly, I've never felt that I would struggle in dropping the habit, as sometimes I can go about 2 days without a smoke.
Stoptober Kit (rrp £19.99) plus 5 cartomizers+2 prefilled clearomizers
But it's like cash though isn't it? When I have some wonga in the bank and go shopping - more often than not, there's nothing much that takes my fancy. When I'm totally brassic, there is everything that I want - no - need! If I have ciggies there, I can go without, when I know there is none, I crack.
My sister, just one year younger than me at 26, has recently suffered 2 TIA's (mini strokes) and upon researching this I found smoking can increase the chances of this happening, and she does smoke (well, did!)... Even more reason to kick this filthy habit.
Black tip Clearomizer prefilled with red menthol
Silver tip Clearomizer prefilled with Organic Bed of Roses
I was very excited when
UK E-Cig Store
offered to provide me with the tools I needed for Stoptober in order to review the items honestly and in detail on this here blog!
When my kit arrived, I was so totally confused at first. It wasn't as 'easy' as those cheaper e-cigs appear, the ones that you just toke and go. This kit is much more sophisticated so immediately I had high hopes - hey, first impressions really do count!
There was the rech
argable 'butt', namely the Joyetech Ego Upgrade Bat

tery, 2 prefilled clearomizers, 5 cartomizers and a USB charger.
Cartomizer
It was literally as easy as twist and puff though once you looked at the bits and pieces.
The cartomisers are prefilled with standard tobacco flavoured vaping juice. Believe it or not, they are really 'lifelike' to a standard cigarette.
I'm on day 6 so don't want to give a full review as yet, just my first impressions...
The vape seems a bit warm to me though, not in flavour but in temperature. I do think that this is because I've been smoking menthol cigs for the past 8 months so they feel cooler in taste to usual smokes.
I find it a tad difficult to hold too as the battery is much heavier than the cartomizer attachment plus you have the release button to press at the same time.
Clearomizer
The clearomizers however, so much more ergonomically friendly by gently slimming to the tip. It balances the weight well too.
It felt odd puffing on the narrow teat-like tip rather than a typical cylinder, but I actually prefer it. Makes vaping feel different to smoking, which is essentially what I want - to disassociate myself with smoking.
Red menthol clearomizer is just beautiful. Absolutely lovely to vape. It's smooth, delicious and still gives you that hit you crave.
Organic Bed of Roses is surprisingly pleasant, the smell reminds me of a rose/musk hand cream, I know, I know - sounds gross - but it's quite soothing. I tried to use it as my only source for one day but after about 3 "cigs" it became too much so swapped over to my menthol again. I'm definitely persevering though because I need to do this. I can't give up giving up LOL!
I do need to order some more menthol though, for fear of having the 'cash syndrome' as I explained in the opening paragraphs!
I'm going to be posting a video blog next week when hubby has some time off to help me film. I will show you how to twist and go... but for now...
... here's me enjoying my UK E-Cig Store Red Menthol Ego Upgrade :-)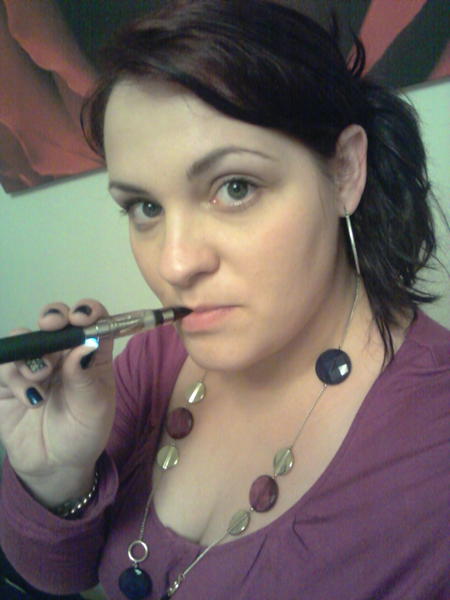 Much more attractive than fag-ash-Lil, don't you agree?!
Take care, JoJo xx